Fresh Choice Electric Cigarette Machine
Make a Fresh Pack of Natural Cigarettes in Two Minutes with the push of a button!
Enjoy Fresher, Better Cigarettes
FRESHER CIGARETTES
Did you know you can make cigarettes at home?
Now you can enjoy premium natural cigarettes for fresh at home! With the push of a button you can make your own cigarettes. The Fresh Choice Electric Cigarette machine is simple, easy, and reliable. You load top-quality Fresh Choice tobacco into your machine, add a paper tube, and press a button. In seconds, you have a cigarette. In fact, you can make a perfect pack of cigarettes in two minutes!
EASIER TO
MAKE

:

Add Natural Fresh Choice tobacco, a Fresh Choice tube in light or full flavor, and push a button on your Fresh Choice Electric Cigarette Machine. In two minutes you'll have a pack of perfect cigarettes. Fresher and Better. So that's it: Natural Fresh Choice Tobacco, tubes, and Electric Cigarette Maker. No more running to the store, hunting for change between the car seats or standing in line.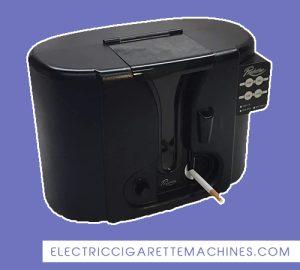 The Fresh Choice Electric Cigarette Machine puts a measured amount of tobacco into each tube packed to your personal preference. The good news is each cigarette is uniform- you don't need fuss and mess with the tobacco to make a perfect cigarette. The machine is safe, reliable and makes consistently good cigarettes.
ADJUSTABLE CONTROLS
The Fresh Choice Electric Cigarette Machine has a dial to adjust the tightness of your cigarette- you can make a tighter smoke depending on your preference. The Fresh Choice Electric Cigarette Machine specializes in king size cigarettes- actually traditional tubes are a hybrid-neither too long or too short. Our customers find our Fresh CHoice tubes to be just the right length for an enjoyable smoke.
FOLLOW THE LIGHTS!
Our instructions are below but the easiest way to explain it is "follow the lights." Our Fresh Choice Electric Cigarette Machine lights up to let you know your next step, or the next button to push. We've made it so that you don't need to think about making your cigarettes, you can think about smoking a great cigarette!
What makes the Fresh Choice Electric Cigarette Maker Special?
Two motors and a microprocessor that monitors the compaction level and quantity of tobacco. In addition, the machine features a selectable compaction level, a metering slide and a control board that controls the sequence of operation, and motors notifies operator of problems and is safe for compaction which prevents damage to the machine. In complexity, this machine is similar to a refrigerator, VCR, or microwave. For ease of operation, it is like a toaster or dishwasher.
And There's More! Fresher Cigarettes!
The Fresh Choice Electric Cigarette Machine was developed to be top notch. We developed the very best tobacco- Fresh Choice, naturally, to ensure that your cigarettes are the best possible. The Fresh Choice Cigarette Machine is specially calibrated to use Fresh Choice tobacco so that we are sure your cigarettes are the best quality possible.
Made in the U.S. of A.
We realize we could have gone overseas with our time and money but isn't there something to be said abut American Ingenuity? We're proud to offer the only cigarette making device invented and manufactured in the United States. When you make the Fresh Choice you are supporting America, our economy, and the values of our country
HOW LONG WILL THE MACHINE LAST?
Our engineers test each machine prior to shipping ensuring that your Fresh Choice Electric Cigarette Machine will be ready for you. We continually test to see how many cigarettes a "typical" machine can make. In fact, we have a row of machines running 24/7 in our factory testing for part failure and consistency. We want to make sure that your machine works perfectly every time. We'd like to give you a number of cigarettes you can expect- but the machines are still going! In fact, they can make cigarettes faster than we can update this information!
A LIFETIME WARRANTY!
That's right- we are so proud of our Fresh Choice Electric Cigarette Machine and our additive-free Natrual Fresh Choice Tobacco that we offer a LIFETIME WARRANTY when the Fresh Choice Electric Cigarette Machine is used with Natural Fresh Choice Tobacco
BUT WHAT ARE OTHER SMOKERS SAYING?
Today I received my Fresh Choice Electric Cigarette Machine and immediately put it work. I want to say that this machine is sweet!!! Not only is it fast but the output cigarettes are uniform (unlike those manual machines where you have to pack the tobacco into the reservoir). With the manual tube stuffers I always had trouble with the consistency of making cigarettes, but with this machine every cigarette comes out the same. Every cigarette is near perfect and I am extremely pleased with the machine.
Thank you, thank you, thank you for developing the Fresh Choice Electric Cigarette Machine. Also thanks for the samples of your tobacco. I am sending in the post card with the name of my local tobacconer shop so that perhaps you can begin selling your tobacco here. Currently I am buying Fred Stoker #2 but I think I like yours better.
Jeff
Having tried all the other cigarette makers that have been on the market I was apprehensive about getting an electric one. However my mother went and purchased Fresh Choices Electric cigarette maker. This thing is a wonder why hasn't anyone thought of this before? You plug it in and use Fresh Choice tobacco and it is such a breeze to make a pack of cigarettes in a matter of minutes you have a pack of GOOD CIGARETTES. All the other machines would never really fill the tube with the tobacco then you had a problem of the flame falling off into your lap or not being able to even make a cigarette because you put too little or too much tobacco into the machine. Fresh Choice measures and packs the cigarette exactly how I want it and the taste is great no additives at all just real tobacco.
I did make a mistake about a week ago our store was out of Fresh Choice so I bought an off brand and when I tried to make cigarettes with it. The machine clogged up in about two seconds that was miserable so for now on I will only use Fresh Choice tobacco. Again thank you for the machine and support you provide. I really do enjoy it very much.
Sincerely
Ed Means
I can not believe how extremely well, and on the money, and I can't forget FAST this machine spits out perfectly packed cigarettes. Well, I now have my life back, 3+ hours wasted a day reduced to maybe 5 minutes, and it's probably less then that. To me, this is about like being in prison, sentenced for life, and then finding out that all charges were dropped and you were getting out, AND they were going to give you $1,000,000.00 for you wrongful incarceration. This is like winning the lottery. I am one satisfied customer!
I received my machine on Friday, Just in time to try it out before I left for the weekend. I am very impressed with it, I made a carton of cigarettes in about half an hour, Way faster than I could ever do on any other machine, and I am pretty sure I have tried them all.
This is the best cigarette-making machine on the market, Fast and easy to use. Here is the bottom line: It is expensive at $469 but pays for itself quickly if you've been smoking factory made cigarettes. Plus, you get fresh cigarettes quickly. It is a relief to smoke a pure natural cigarette that isn't full of additives and crummy tobacco. It tastes smooth and rich. Even the smoke smells differently- like tobacco, not stinky!